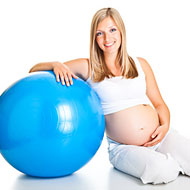 We offer professional Pre and Post Natal Pilates training sessions here in Tokyo by an experienced BASI accredited and JPTA registered Physical Therapist!
Prenatal Pilates
pilates for mums-to-be from your 2nd trimester
Pilates is a safe way to exercise during the second and third trimesters of pregnancy. Strengthening the core abdominal muscles and pelvic floor prepares the body for a smooth prenatal phase and birth. Our expert Pregnancy Pilates teachers can help make this special time an empowering journey in mind and body.
When to practice
Rest during the first trimester
The changing hormones in the body during this time can make you feel exhausted and nauseous. So even though relaxation techniques will nourish both body and mind, we recommend you wait until the second trimester to exercise.
Practice Pilates during the second trimester
Although the body is changing and expanding, make the most of high energy levels and practice Pilates to benefit you in the following months.
Continue your classes until before birth
You may be heavy and achy but you can rest assured Pilates helps all of the conditions associated with pregnancy by strengthening the central or 'core' muscles, which in turn leads to improved posture, circulation and well-being.
Take up postnatal classes after birth
Women can generally return to Pilates four to six weeks after delivery, or eight to twelve weeks after a Caesarian section. Your doctor will advise you on when your body is ready.
Benefits of Prenatal Pilates
– helps maintain and improve the condition of abdominal muscles
– strengthens pelvic floor muscles
– relieves strain on joints
– builds key muscles for rapid recovery
– increases energy
– decreases anxiety
– improves sleep
– reduces backache
– improves circulation
Postnatal Pilates
recover, tone + strengthen after birth
Pilates quickens postpartum recovery + strengthens the body + mind for the new demands of motherhood. Whether you have had a vaginal or Caesarian delivery, a safe Pilates workout is developed to target particular muscle groups.
When to practice
We recommend that you wait a minimum of six weeks after delivery to start exercising again. However, if you have had a caesarean section, then it is highly recommended that you wait eight to twelve weeks before starting postnatal Pilates. However, always consult your doctor and inform the teacher at the start of the class where you are in your postnatal phase.
Benefits of Postnatal Pilates
Postnatal Pilates classes offer one of the best ways to get back into shape quickly after having a baby.
The benefits of postnatal Pilates classes are many. Designed specifically to target those problem areas that mothers face after pregnancy, these classes are conceived to firm-up + strengthen the body's core muscles in order to create a trimmer and sleeker silhouette. By creating a "girdle" around your middle you will have greater strength in your back + stomach muscles and will even increase your arm strength to help you cope with all the bending and lifting you will be doing with your new baby. Pilates will also help to improve your posture so that you will experience far less back pain + tenderness.
Postnatal Pilates classes will do wonders for your overall conditioning as well as for your mental outlook.
Training Locations
Pre and postnatal pilates training sessions are held at the BodyLife studio. Sessions can also be held in the privacy of your own home.
For more information about pre and postnatal pilates please contact us.